FREQUENTLY ASKED QUESTIONS
Are all Taxi Brandings the same?
No! We individually prepare and print your branding from start to finish. The branding you receive is printed for your car uniquely. No added on numbers, bulk blank prints or other printing shortcuts are taken with our branding. Taxi branding should only be finished to set colours - a Pantone Green and a Pantone Blue, so be aware of colour imitations in the traffic! An easy way to spot one, is that the green looks Yellowish.
Do I have to do a lot of paperwork?
No! We do it all for you. At time of booking we will request your car registration and licence number. We verify all details with the NTA and confirm your booking back to you 48 Hours before you come in for branding.
Are there any hidden charges?
Absolutely not, the price is the price and here at Insignia we will never charge you more.
Is it a goood quality material you use?
Yes, we only use the best sign making materials, sourced here in Ireland that give a long lasting and crystal clear finish. Your branding is uniquely printed for your car, and then heat dried and laminated for a long lasting application. There are strict guidelines of positioning and fitting of the branding, badly fitted branding could result in a sustability test failure. At Insignia, we don't cut corners.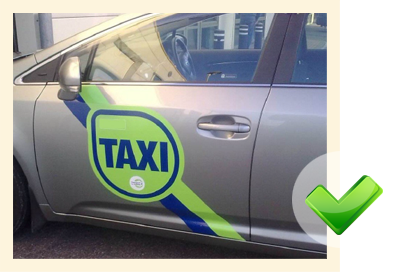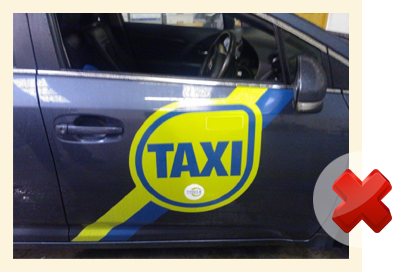 How long does it take?
Not long at ass. An Avensis takes 30 Mins, Octavia/Superb 40 Mins, Passat/Mondeo 40 Mins and a large people carrier 50 Mins Max. Fitting takes place, indoors, in our fitting bay in Harold's Cross, Dublin 6W.
What will I do while I'm waiting?
Enjoy a cup of coffee or tea on us in McGowan's of Harold's Cross. When you arrive we give you a voucher for a free cup of tea or coffee which you can redeem in McGowan's pub which is just a stone's throw away from our fitting bay in Harold's Cross.
Any chance of a discount?
Everyone loves a deal and so do we, so we made an early bird special. If you book in on a date which is at least 3 weeks before your licence renewal date, then we will give you a further 5 Euro Discount on the fitting price. So book today for further savins.